Cost Effective Network Monitoring Solutions
Network monitoring is critical Internet Technology (IT) that examines network performance and can save money in the productivity of employees and in infrastructure cost overruns. A full system can monitor the network for any sort of problems. It can resolve such problems as lost emails, slow downloads, crashing servers, questionable user activity, and shifty network connections.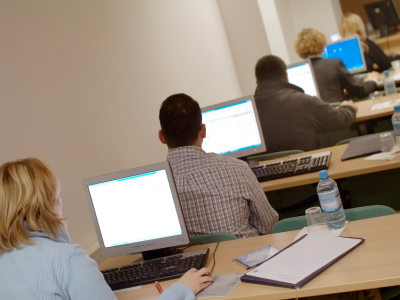 These systems are very different from detection or protection systems for outside or inside threats. They are not meant to detect or prevent any sort of activity from unauthorized users. Instead, they are meant to let you know how the system itself is running, and how it can be bettered, over the course of normal operations. They are not necessarily meant for improving security.
Why is Network Monitoring important?
Once the system is up and running, many people just don't bother with monitoring it, thinking that there's nothing else that needs to be done – its already at its best. Monitoring network performance is crucial to maintain a high-level of performance and health of the network, ensuring high efficiency and productivity.
It will also help establish a database of efficiency information for the future growth of your company, like the movement of information throughout the entire network, including the Internet and your servers and routers. These will monitor the system for symptoms of lost performance constantly.
Without network monitoring, your network can easily slow down and incredibly diminish both the security of the network as well as the performance of your business.
Both hardware and software solutions are available for network monitoring, or combinations of both. Almost every sort of network can be monitored, whether it is a corporate LAN, VPN, or a service provider's WAN, whether it is wireless or has tons of confused wires all over the place. The systems can be monitored through a variety of different operating systems and devices.
There are many different parts of your system to monitor. You have to know which servers run which applications and how and where, and all the different types of networks that are currently running, how many different computers are connected to which, and the remote devices connected, such as Blackberries, iPhones or other cell phones. All of this information should be kept together in effectively a map of the company's network. Knowing what you need helps make choosing the right tools much easier.
Types of Network Monitoring
There are definitely many types of network monitoring solutions that are available to the less geeky –  applications that provide graphs and much more detailed reporting so that it all can be understood.
These simpler options also will set-up are easier to use than those programs geared to an IT technicians' level, options that the rest of us generally can't understand. Also the charts provided are very easy to read and are great for presentations.
A very common tool for monitoring networks is an open-source tool. They are very innovative and are extremely easy to work with. They cooperate with all different platforms and various other tools. Data is presented in the Microsoft Excel format for easy use, which is the most common spreadsheet application. Open source-based tools are best for overall monitoring, especially if your network doesn't have any other monitoring equipment already.
It is always a good idea to consult with someone about various operating systems and platforms if you are unsure of how well the new device and monitoring will integrate.
It is also easy to have great support and monitoring for one device that just doesn't work well with your servers at a different location, running different operating systems. Intergration is important.
There are of course devices that do integrate quite easily if you already have various systems working together to analyze your network, although they may require a bit more of an understanding of Internet technology. Do note: if you have many of these devices trying to work together, monitoring can become difficult.
There are different monitoring appliances that may be able to simplify the whole monitoring process for you, and manage the traffic between the standalone devices, whether appliances or applications (physical items or various programs).
Some of these monitoring appliances can actually give the option of balancing the load of the whole system across the various sub-nets you'll have. This process alleviates pressure caused by multiple monitoring tools that slow down the whole system to inspect each and every part of it, which creates a bottleneck effect that can be very damaging to productivity.
Also, with only one application to have to monitor, the learning curve is much less, rather than trying to have various devices and learn all of the ways in which they monitor your system.
Complex and Scalable: Ensure Your Network Monitoring Over Time
As your network system becomes more and more complex through expansion and innovation, your monitoring system must be able to keep up with it. Converged networks, also known as triple play networks, combine all data transmission into one single pipe, which then needs a real-time monitoring and management system for peak performance.
This type of system can manage each single packet that moves across it for latency and packet loss for the very basics, but each system can be easily customized to look for much more specific things. More traditional systems, which just check every five seconds to see if there are any sorts of problems or errors or incongruencies, are simply not capable of providing adequate coverage and monitoring of the system. More demanding tasks require real-time networking monitoring systems.
Also available, are service companies that can monitor your system for you, especially if your system has become too complicated for you to handle on your own. You can outsource to other companies who take control of your entire monitoring system, giving full diagnostics information and full reports.
Costs of Network Monitoring Software
The costs of these systems can vary, ranging from free to extremely expensive, depending on the reach of your network and the monitoring system's coverage.
The various applications, software-only systems, and the outsource services range anywhere from $50 dollars to a five-figure monthly payment. They can be lump sums, or various installments of payments, or a monthly payment – which is normally how outsourcing services are paid. You should consult with a professional to understand what you actually need, especially if you think your provider is trying to sell you more than you need. But remember that you are trying to improve your productivity and efficiency, so though it may seem expensive, you are really investing in your company's future.
With the right network monitoring system, you can definitely improve your business and move up several levels of productivity and efficacy, so be sure to think long and hard about what you can do to completely monitor your own network.